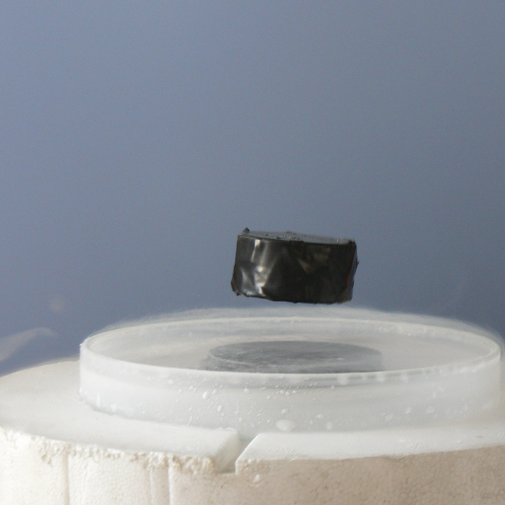 Aanmelden Registreer je voor toegang tot de workshops
Workshop vindt plaats op 11 december
Workshop Supergeleiding
Geïnteresseerd in deze workshop? Via de button links op deze pagina kun je je aanmelden. Is er nog geen datum gepland, vul dan het interesseformulier in. Wij mailen je dan zodra de datum bekend is of om met jou een datum af te spreken. Nog geen account op het forum? In dat geval verschijnt er een knop om je eerst te registreren.
Inhoud Workshop
De supergeleidingworkshop laat je kennis maken met het verschijnsel supergeleiding. Na een korte introductie zal er een presentatie gegeven worden over het fenomeen supergeleiding. Hierna zal er het zogenaamde dipstick experiment worden uitgevoerd door experts. In het kort ziet het experiment er als volgt uit. Een elektrisch circuit met supergeleider is in een staaf gemonteerd. Deze staaf wordt ondergedompeld in een vat met vloeibaar helium. Via een computerprogramma verkrijgen we hopelijk de kenmerkende weerstand-temperatuur grafiek.
De PhD studenten, die de dipstick proef uitvoeren, zullen jullie ook een rondleiding geven door het QuTech lab. Hierna zullen we met het Meissner effect gaan spelen. Er zijn genoeg supergeleiders aanwezig en twee magneetbanen.
Wees zeker niet bang om je eigen baan of supergeleiders mee te nemen!
Voor wie?
Maak je een profielwerkstuk over quantum mechanica of supergeleiding? Dan is deze workshop precies wat voor jou! Voor deze onderwerpen is het namelijk lastig een proef uit te voeren waarbij je bruikbare resultaten krijgt. Met deze workshop krijg je behalve nuttige informatie ook nog genoeg resultaten!
Duur
De workshop neemt ongeveer een middag in beslag. Van 13:30 tot 16:30.
Inschrijven
Wanneer er een datum gepland is, zal er aan de linkerzijde van deze pagina een button te zien zijn waarmee je je kunt aanmelden voor de workshop. Als er geen datum gepland is, klik dan op de button 'Interessant'. Dan houden we je op de hoogte! Als je vragen hebt over de workshop of over dit onderwerp in het algemeen, verwijzen we je graag naar ons forum!
Impressie
Meer workshops
Misschien vind je één van de volgende workshops ook interessant?