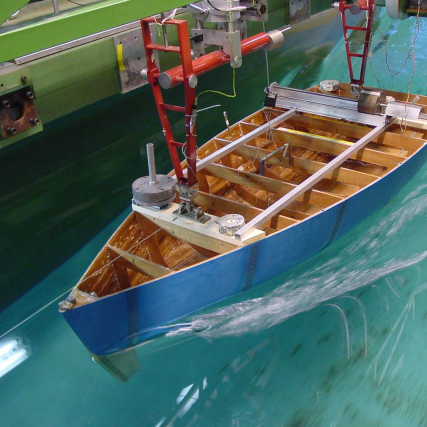 Aanmelden Registreer je voor toegang tot de workshops
Workshop vindt plaats op 20 november
Workshop Sleeptank
Geïnteresseerd in deze workshop? Via de button links op deze pagina kun je je aanmelden. Is er nog geen datum gepland, vul dan het interesseformulier in. Wij mailen je dan zodra de datum bekend is of om met jou een datum af te spreken. Nog geen account op het forum? In dat geval verschijnt er een knop om je eerst te registreren.
Inhoud Workshop
De sleeptank workshop is bedoeld om inzicht te geven in de theorie achter het varen van boten. Het doen van proeven met betrekking tot de weerstand die een boot ondervindt tijdens het varen, met behulp van een sleeptank, kan bijvoorbeeld een indicatie geven hoeveel brandstof een boot verbruikt tijdens het varen. Het doel van de proef is om van verschillende modellen van scheepsrompen de weerstandscoëfficiënt te bepalen en zo te bepalen welke romp het minste weerstand ondervindt.
Voor wie?
Ben je benieuwd naar waarom speedboten een andere romp hebben dan tankers? Of wil je weten welke romp het minste weerstand ondervindt tijdens het varen? Ben je de zeilfanaat en wil je graag je hobby tot PWS onderwerp om toveren? Dan is deze workshop uitermate geschikt om te gebruiken voor je profielwerkstuk!
Duur
De workshop neemt ongeveer een dag in beslag. In de ochtend wordt een rondleiding gegeven en de workshop uitgelegd. In de middag worden er experimenten gedaan.
Inschrijven
Wanneer er een datum gepland is, zal er aan de linkerzijde van deze pagina een button te zien zijn waarmee je je kunt aanmelden voor de workshop. Als er geen datum gepland is, klik dan op de button 'Interessant'. Dan houden we je op de hoogte! Als je vragen hebt over de workshop of over dit onderwerp in het algemeen, verwijzen we je graag naar ons forum!
Impressie
Meer workshops
Misschien vind je één van de volgende workshops ook interessant?